In early spring, 2006, a small group of concerned citizens gathered to discuss the idea of creating a West Falmouth Village Association that would be inclusive of all residents and taxpayers of West Falmouth and one that would be similar to other associations in the town.
An interim Board was established and we held our first community wide meeting in July, 2007 to introduce our plan and encourage members to join. Our membership now numbers over 330 and we have a Board of Directors with officers in place.
Click here for the 2013-2014 Membership Dues form


---
West Falmouth beach protected forever with conservation restriction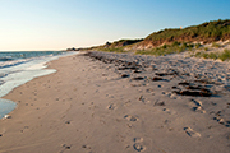 The generosity of the Shearer family is shown through a remarkable gift of a conservation restriction co-held by the Buzzards Bay Coalition and The 300 Committee Land Trust.
Near Chapoquoit Beach in West Falmouth lies a special stretch of beach and coastal habitat. Tall dunes rise up over the shore, protecting a community of plants and shrubs sandwiched between West Falmouth Harbor and Buzzards Bay.
View photos of this unique coastal habitat that is now protected forever.


---
West Falmouth Village Association Annual Meeting Highlights:
• Thank You to outgoing President of the WFVA, Su Moran, now a Selectman in Falmouth
Su helped spearhead many projects in West Falmouth.

• Welcome to John Weyand, new President of the WFVA
• John Ross receives the West Falmouth Villager Award
John has devoted many years to preserving the waters of Buzzards Bay and West Falmouth Harbor.
• Thank you to departing WFVA Board Members
Chuck Eastman and Peter Gedney
• Welcome to new WFVA Board Members
Rob Bowerman, Mary Bunker Ryther, Phil Nehro and Tracy Birmingham West
• Falmouth Day (3rd Annual), Sunday, October 12, 2014 at Swift's Playground
Rain Date, Monday, October 13th.
---
Swift Playground Ready for Summer

The newly renovated Swift Playground on Blacksmith Shop Road in West Falmouth is open and ready for summer. The renovation, which was the dream of West Falmouth teenager Jake Barry, was recently commemorated with a stone engraving to recognize the efforts of those involved. Pictured here, Susan Moran, president of the West Falmouth Village Association and 18-year-old Jake Barry of West Falmouth.
> View more photos & read more about the Playground
---
Membership Survey
Please take a moment to fill out our Membership Survey, and either mail or email it to the WFVA (instructions provided with the survery). Thank you!


Click here to fill out the brief survey.

---
Falmouth Bikeways Committee Survey
The Falmouth Bikeways Committee is seeking your input; please fill out this survey. It will give the committee a better understanding of bicycle rider needs in Falmouth. The survey will take five to six minutes. Your bicycling needs will be incorporated into bicycling planning. Please only complete this survey one time. The committee would like the widest range of citizens to participate in this survey.

Take the Survey!
> Please read the details about requesting to post
information on the WFVA website