---
Buzzards Bay needs your help today.

The state budget has left out critical funding for protecting clean water in your community. This funding supports water quality monitoring across southeastern Massachusetts including the Coalition's Baywatchers program.

Your voice can make a difference.

Tell Senate President Rosenberg and your senator to support budget amendment 226 to restore water quality monitoring funding for Cape Cod and Buzzards Bay.

Contact Senator Rosenberg now by calling (617) 722-1500 and emailing stan.rosenberg@masenate.gov.

Contact our Senator, Vinnie deMacedo, by calling 508-747-6500 and emailing vinny.deMacedo@masenate.gov.

For 23 years, the Baywatchers program has monitored the health of your local waterways. And that research has led to action. On Cape Cod, a major clean water planning process is almost complete and the U.S. Environmental Protection Agency just launched a program to reduce nitrogen pollution.

The Baywatchers program is more important than ever. Tell the Senate to support budget amendment 226 to protect clean water in your community today.

---
WFVA Spring Clean Up

Thanks so much to each of you for helping again this spring to clean up areas of West Falmouth. There were 9 new volunteers this year making a total of over 50 people committed to the task of removing bags of trash. Number one on the list of items picked up once again seems to be "nip" bottles. Beverage bottles were second along with debris from all the "fast food" establishments.

Here are a few "trashy" pictures. The Sotheby sign was returned to their office.

Gratefully, Milt and Sue Williamson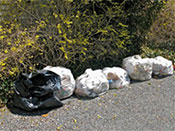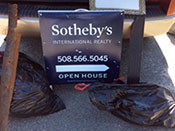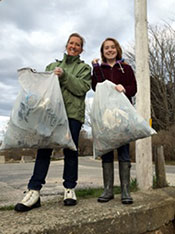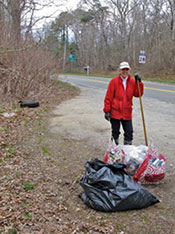 ---
WFVA Villager Award

The West Falmouth Village Association is currently seeking nominations from the community for our 2015 Villager recipient. This award is given for outstanding service and dedication to our village. If you have a recommendation, please contact Jay Austin at 508-566-0645 or by email at Aukina@aol.com. Please let me know why you feel the person you have nominated is worthy of such an honor. All nominations need to be submitted by May 15th. so a full discussion can be brought to your Board for a vote at our next scheduled meeting on May 21st. Thank you in advance for your help!

The WFVA Villager Award was established in 2010 to honor individuals in our community who have given great service, time and talent for the benefit of West Falmouth.

This award is bestowed at the Annual Meeting held in July/August.The person or persons to be honored will be notified in advance of the meeting and asked to be on hand for the presentation of the award. Past recipients of this award are:
John Ross - 2014
Peter Gedney and Paul Sellers – 2013
John F. Austin, Jr. - 2012
Maurie and Art Harlow-Hawkes – 2011
Milt and Sue Williamson - 2010

---
West Falmouth beach protected forever with conservation restriction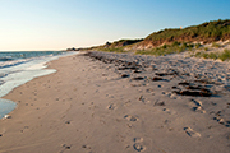 The generosity of the Shearer family is shown through a remarkable gift of a conservation restriction co-held by the Buzzards Bay Coalition and The 300 Committee Land Trust.
Near Chapoquoit Beach in West Falmouth lies a special stretch of beach and coastal habitat. Tall dunes rise up over the shore, protecting a community of plants and shrubs sandwiched between West Falmouth Harbor and Buzzards Bay.
View photos of this unique coastal habitat that is now protected forever.


---

> Please read the details about requesting to post
information on the WFVA website