---
Celebrate the 4th Annual West Falmouth Day,
now a part of Pumpkin Day!
When: Saturday, October 10, 2015. 9:00 am - 3:00 pm
RAIN or SHINE

Where: Bourne Farm, Route 28A, West Falmouth, MA

Get more details here >

---
Falmouth Receives State Funding to Replenish Chapoquoit Beach
The Enterprise by Carrie L. Gentile
Falmouth has been awarded $120,000 from the state to replenish Chapoquoit Beach and adjacent dunes with sand dredged from the Cape Cod Canal.
Read more >
---
The West Falmouth Village Association's Annual Meeting was held on July 8, 2015.


Read more about the Annual Meeting and view more photos.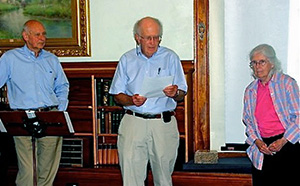 Villager Award history:
2010 Milt & Sue Williamson
2011 Art Hawkes & Maurey Harlow-Hawkes
2012 John F. Austin Jr.
2013 Peter Sellers and Paul Gedney
2014 John Ross
2015 Nancy Hayward


---
Falmouth Healthy Lawns
What you need to know about Falmouth's Nitrogen Control Bylaw for Fertilizer:

Falmouth adopted this Bylaw to reduce the nitrogen pollution going into our estuaries. The Bylaw applies to nitrogen used to fertilize grass only. The Bylaw does not apply to fertilizer used on your flower and vegetable garden, greenhouse, houseplants, farm, or orchard. The Bylaw also does not apply to the establishment or repair of turf (after substantial damage) in its first growing season.

Prohibitions:
• Don't fertilize any part of your lawn between October 16th and April 14th, or directly before or during a heavy rain event. Don't spread fertilizer on paved surfaces and clean it up if you do.

• Don't fertilize any lawn located within 100 feet of wetlands - specifically the Resource Areas as defined in Falmouth's Wetlands Regulations, FWR 10.02 (1)(a - d).

• The Bylaw recommends that if you fertilize lawns not covered by the 100' prohibition, fertilize sparingly! The Bylaw encourages use of materials such as yard waste, compost or other similar materials that are primarily organic in nature and that are not considered "fertilizer" to improve the physical condition of your soil.

Read more in the Healthy Lawns PDF.
---
The Guardian Award was given to the West Falmouth Boat Club from the Coalition for Buzzards Bay. A beautifully carved scallop shell award created by New Bedford artist John Magnan from pine driftwood collected on Cuttyhunk sits on the mantel in the WF Library.

The Guardian Award is the "highest honor from the Coalition and is given for outstanding service in the clean-up, restoration, or protection of Buzzards Bay." It honors "the unsung hero or heroine who deserves public recognition, not only for what they have achieved, but also to inspire others to make a difference."

Please stop by the West Falmouth Library to read the complete award information on the bottom of the shell. John Magnan's studio is located in the Waterfront Historic District of New Bedford.
---
West Falmouth beach protected forever with conservation restriction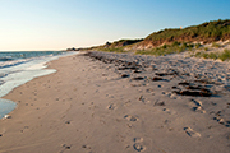 The generosity of the Shearer family is shown through a remarkable gift of a conservation restriction co-held by the Buzzards Bay Coalition and The 300 Committee Land Trust.
Near Chapoquoit Beach in West Falmouth lies a special stretch of beach and coastal habitat. Tall dunes rise up over the shore, protecting a community of plants and shrubs sandwiched between West Falmouth Harbor and Buzzards Bay.
View photos of this unique coastal habitat that is now protected forever.


---

> Please read the details about requesting to post
information on the WFVA website