---
Falmouth Clean Up

Saturday, April 25 - Saturday, May 2, 2015
For the WEST FALMOUTH VILLAGE ASSOCIATION Board Members:  

We need all the help we can get. Please inform Sue or Milt Williamson as to which streets or areas you will volunteer to clean up.  

Thanks to Martha Asendorf for already cleaning up and grooming the island of flowers at Brick Kiln Rd. and Rt. 28A. Sue and Milt Williamson are continuing to pick up from their location at 658 WFH to Chapoquoit Beach parking lot via Old Dock Road and Chapoquoit Road.
Please let us know of other volunteer actions.

View to Falmouth Clean Up PDF for more details.
---
Annual Christmas Tree Lighting

Homes and businesses along West Falmouth Highway are encouraged to put out white lights during the holidays to show community spirit.
View the poster (PDF)

---
West Falmouth Day
A free, family-friendly event at Swift Park & Playground, Blacksmith Shop Road, West Falmouth

Thanks for coming to West Falmouth Day on October 12, 2014. We enjoyed seeing so many smiling faces from all around our community. Please come back next year!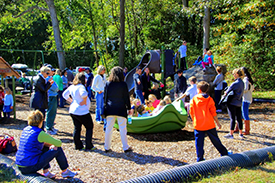 ---
West Falmouth beach protected forever with conservation restriction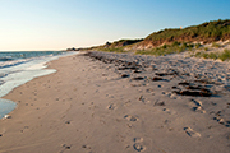 The generosity of the Shearer family is shown through a remarkable gift of a conservation restriction co-held by the Buzzards Bay Coalition and The 300 Committee Land Trust.
Near Chapoquoit Beach in West Falmouth lies a special stretch of beach and coastal habitat. Tall dunes rise up over the shore, protecting a community of plants and shrubs sandwiched between West Falmouth Harbor and Buzzards Bay.
View photos of this unique coastal habitat that is now protected forever.


---

West Falmouth Village Association Annual Meeting Highlights:
• Thank You to outgoing President of the WFVA, Su Moran, now a Selectman in Falmouth
Su helped spearhead many projects in West Falmouth.

• Welcome to John Weyand, new President of the WFVA
• John Ross receives the West Falmouth Villager Award
John has devoted many years to preserving the waters of Buzzards Bay and West Falmouth Harbor.
• Thank you to departing WFVA Board Members
Chuck Eastman and Peter Gedney
• Welcome to new WFVA Board Members
Rob Bowerman, Mary Bunker Ryther, Phil Nehro and Tracy Birmingham
• Falmouth Day (3rd Annual), Sunday, October 12, 2014 at Swift's Playground
Rain Date, Monday, October 13th.


---

> Please read the details about requesting to post
information on the WFVA website