In early spring, 2006, a small group of concerned citizens gathered to discuss the idea of creating a West Falmouth Village Association that would be inclusive of all residents and taxpayers of West Falmouth and one that would be similar to other associations in the town.
An interim Board was established and we held our first community wide meeting in July, 2007 to introduce our plan and encourage members to join. Our membership now numbers over 330 and we have a Board of Directors with officers in place.
Our purpose is to preserve the character of the village and to work with town officials from Falmouth to meet the changing needs of West Falmouth and the greater Falmouth community.


Click here for the 2013-2014 Membership Dues form


---
Upcoming Selectmen's Meetings
Association members are encouraged to attend, and/or email selectmen on issues before the following dates: April 22nd where the topic will be the WF Fire Station, and April 29th where the topic will be the proposed liquor store relocation.
---
West Falmouth Playground Redux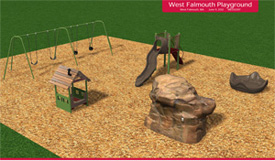 March 23, 2013 Fundraiser
The event raised $1200, and the total so far is a bit over $20,000 since we also got a grant for $500 from the Falmouth Commission on Disability. The next pieces added will be a bench donated by the United Methodist Church in West Falmouth and, with a few more thousand bucks, the omni spinner!
> Click for more details and photos!

Support is needed for a more updated, fun, and useable playground.

The concept, similar to that used for the Mullen Hall School, is to involve the West Falmouth Community to bring this project to fruition.

With the support of the Falmouth Selectmen, Recreation Committee, the West Falmouth Village Association, and the West Falmouth Community, the playground will be revitalized!
View the progress of the proposed new playground


---
"Where in West Falmouth" Photos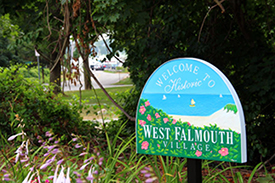 "Where in West Falmouth" Photos
Featuring photos of West Falmouth by Peter Partridge
> Click here to view the photos


Safety Tips for Protecting
Your Home
Sergeant Doyle, Falmouth Police Department

Tales of Old West
Falmouth DVD,
West Falmouth MA

Total Lunar Eclipse from West Falmouth

more videos >

Save Crocker Pond

West Falmouth Day

West Falmouth Playground

Sign up for West Falmouth News & Information





---

Article 40 passed with an ammendment

As many of you already know Article 40 went before town meeting on Wednesday the 14th and passed with an amendment. > Click here for more details


Buzzards Bay Coalition
October 24, 2012


TO: Richard Sullivan, Jr., Secretary
Massachusetts Executive Office of Energy and Environmental Affairs

RE: Draft Comprehensive Wastewater Management Plan and Draft Environmental Impact Report, and Notice of Project Change: Little Pond, Great Pond, Green Pond, Bournes Pond, Eel Pond and Waquoit Bay Watersheds and Recommendations for West Falmouth Harbor Watershed
> read full article