---
Open Village Meeting
Topic: Discussion of Fire and Rescue Services delivered from West Falmouth Fire Station

Date: Wednesday, December 9th at 7:00 pm

Meeting Location: West Falmouth Library, 575 West Falmouth Highway

Falmouth Fire Chief Mark Sullivan and Town Manager Julian Suso will discuss staffing and equipment at West Falmouth Station.
---
PUBLIC NOTICE
WEST FALMOUTH FIRE STATION
The Fire Engine which has been routinely stationed at the West Falmouth Fire Station has been taken out of service. A recent inspection has revealed corrosion problems in the frame of the vehicle which render it potentially unsafe. The Town Manager is working closely with Fire Chief Sullivan in a full assessment and evaluation of vehicle options over the coming days. In the meantime, Chief Sullivan has placed an existing Fire Department vehicle at this Station for continued, routine 24/7 duty as the standard medical first responder. Be assured that this substitute Fire Department vehicle is fully outfitted to provide first responder medical care to Town residents. We thank residents for their patience and understanding as we properly assess and evaluate reasonable alternatives. This temporary circumstance will in no way affect the ongoing delivery of Fire Department services from the West Falmouth Fire Station.
Julian M. Suso
Falmouth Town Manager
November 6, 2015
---
West Falmouth Tree Lighting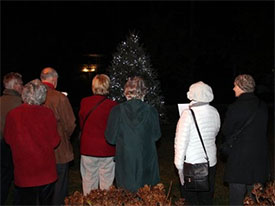 Join us for carol singing, hot cider, and holiday joy!

View / Print the Poster

Date: Sunday, December 6th, 2015 at 5:30 pm

Location: On the lawn at the corner of West Falmouth Hwy. and Old Dock Road, across from West Falmouth Market
---
Tennis Courts at Swift Playground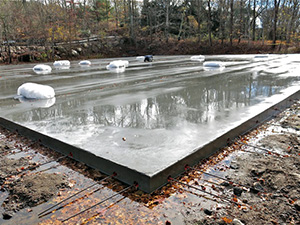 Photos show current progress (Nov. 20, 2015) of reconstruction of the Town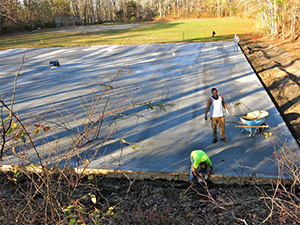 Tennis Courts at Swift Playground in West Falmouth. The Town of Falmouth is overseeing and funding the construction. Courts will be ready for play in Spring 2016.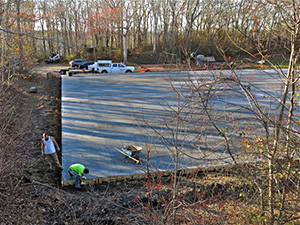 ---
Falmouth Receives State Funding to Replenish Chapoquoit Beach
The Enterprise by Carrie L. Gentile
Falmouth has been awarded $120,000 from the state to replenish Chapoquoit Beach and adjacent dunes with sand dredged from the Cape Cod Canal.
Read more >
---
WFVA Annual Pumpkin Day 2015

West Falmouth Day, now a part of Pumpkin Day!
A free, family-friendly event at the historic Bourne Farm, Route 28A, West Falmouth, MA held each year in October.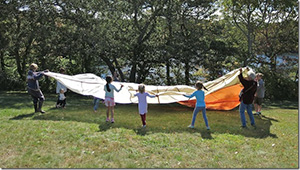 Parachute Fun led by Elsa Partan.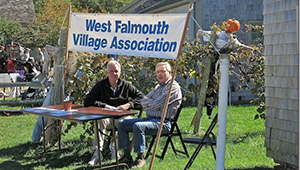 Board Members Jay Austin and Tom Ford
man the WFVA information table.
The generosity of the Shearer family is shown through a remarkable gift of a conservation restriction co-held by the Buzzards Bay Coalition and The 300 Committee Land Trust.
Near Chapoquoit Beach in West Falmouth lies a special stretch of beach and coastal habitat. Tall dunes rise up over the shore, protecting a community of plants and shrubs sandwiched between West Falmouth Harbor and Buzzards Bay.
View photos of this unique coastal habitat that is now protected forever.