---
A Gastronomic Celebration of Oysters Supporting Ocean Sustainability
When: October 26, 2014 from 5:00 - 7:30 PM
Where: Sea Crest Beach Hotel, Falmouth, MA
What: Oyster gastronomy, saving our oceans, live music by the Fred Clayton Jazz Trio
Tickets may be purchased online at oystergrandtasting.com.

Leading chefs from near an far will prepare culinary masterpieces featuring oysters that will be served to attendees. View more details about the Oyster Grand Tasting >

Dr. Katsuyoshi Mori, President of the World Oyster Society, will be traveling from Japan to attend the Oyster Grand Tasting. Dr. Mori and State Senator, Dan Wolf, will be honored guests of the event. View more information about the Oyster Symposium >


---
West Falmouth Day
A free, family-friendly event at Swift Park & Playground, Blacksmith Shop Road, West Falmouth

Thanks for coming to West Falmouth Day on October 12, 2014. We enjoyed seeing so many smiling faces from all around our community. Please come back next year!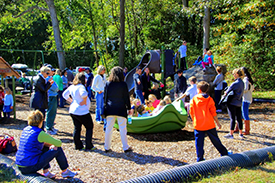 ---
West Falmouth beach protected forever with conservation restriction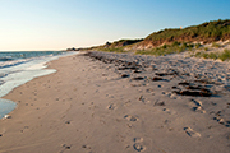 The generosity of the Shearer family is shown through a remarkable gift of a conservation restriction co-held by the Buzzards Bay Coalition and The 300 Committee Land Trust.
Near Chapoquoit Beach in West Falmouth lies a special stretch of beach and coastal habitat. Tall dunes rise up over the shore, protecting a community of plants and shrubs sandwiched between West Falmouth Harbor and Buzzards Bay.
View photos of this unique coastal habitat that is now protected forever.


---

West Falmouth Village Association Annual Meeting Highlights:
• Thank You to outgoing President of the WFVA, Su Moran, now a Selectman in Falmouth
Su helped spearhead many projects in West Falmouth.

• Welcome to John Weyand, new President of the WFVA
• John Ross receives the West Falmouth Villager Award
John has devoted many years to preserving the waters of Buzzards Bay and West Falmouth Harbor.
• Thank you to departing WFVA Board Members
Chuck Eastman and Peter Gedney
• Welcome to new WFVA Board Members
Rob Bowerman, Mary Bunker Ryther, Phil Nehro and Tracy Birmingham
• Falmouth Day (3rd Annual), Sunday, October 12, 2014 at Swift's Playground
Rain Date, Monday, October 13th.
---
Membership Survey
Please take a moment to fill out our Membership Survey, and either mail or email it to the WFVA (instructions provided with the survery). Thank you!


Click here to fill out the brief survey.

---
Falmouth Bikeways Committee Survey
The Falmouth Bikeways Committee is seeking your input; please fill out this survey. It will give the committee a better understanding of bicycle rider needs in Falmouth. The survey will take five to six minutes. Your bicycling needs will be incorporated into bicycling planning. Please only complete this survey one time. The committee would like the widest range of citizens to participate in this survey.

Take the Survey!
> Please read the details about requesting to post
information on the WFVA website